Do you want the best air hockey tables? I've got you covered. In this post, we'll look at the top mini air hockey tables with their different features. 
These features run from easy installation to portability to lightweight. Also, the mini air hockey tables vary in size and cost.
Stay with me to learn more, and decide which one to buy for your kids, family member, or friends.
Quick Summary:6 Best Mini Air Hockey Tables
Best Mini Air Hockey Tables – Our Top 6 Picks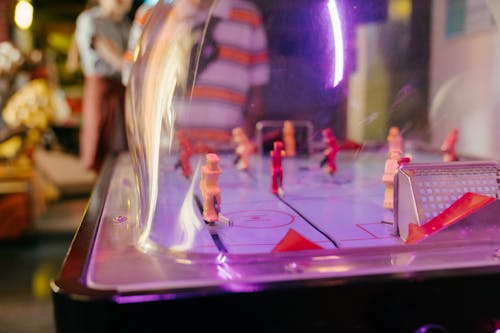 This 38-Inch table for adults and kids is great for playing on the floor, carpet, tables, or other flat surfaces.
The air hockey table includes a 12V-AC motor that passed a continuous operation test for 24 hours.
Its fan operates quietly yet consistently, perfect for 2.5-inch pucks sliding. It also has excellent dual constant airflow to guarantee the smooth glide of the air hockey pucks.
This is a complete Electric-powered table with a fast setup. The table game for kids comes with a Manual Scoring system, two strikers, an LED, two pucks, a powder adapter, a screwdriver, and screws.
You need to attach the goal box and legs to start the game.
This table game features a cyclone style and a non-slip rubber cushion on every leg to avoid scratches and offer more secure standing support.
Both soccer and air hockey are available on this table to accommodate your unique demands and preferences. Kids and adults can both use the size.
You can set up the air hockey table on tables, pantries, cabinets, and more. It is removable, so you may put it back in the box when not in use.
Because it is portable and compact, the table set is perfect for use in bars, at home, at events, in recreation areas, in game rooms, and more.
The table's non-slip handles and 360-degree spinning steel bars make it easy for the goalkeeper to maneuver.
You'll have a great time playing because the table's flat surface makes it easy for the soccer ball to slide.
This set offers all the excitement of the bigger arcade setups in a more compact design. Kids will adore the authentic two pucks and pushers in the gaming room design!
The battery-operated blower keeps a steady flow of air beneath the puck to keep it moving. Also, this gameplay will keep your children and family occupied and entertained for hours.
Lastly, you can play this game on game nights, and the whole family will enjoy it.
This is a tabletop recreation of the iconic arcade game with a modern and futuristic design.
You can create this excellent recreation of everyone's favorite real entertainment on almost any flat surface, including a dining table or work desk.
It has two pucks and neon paddles for a seriously action-packed game. This table game's air engine propels the puck with force, producing fast-paced, action-packed gameplay.
This retro-certified attraction was built with a wood grain touch and a neon color scheme to give you the sensation of something inventive and fresh yet also comfortable and precious to your heart.
Using this portable table, kids' playtime will enhance their hand-eye coordination and knowledge. The table has an air-jetted air hockey table, sliding scoreboards, a puck, and two pushers.
Due to its lightweight and portable design, you may play with your family and friends everywhere, such as in the study, children's room, sitting room, and outside. It also has a simple place for easy storage.
It also has a robust construction and a wood grain polish for long-lasting sturdiness to guarantee many years of fun. The handles are made to be simpler to hold on to.
The captivating box makes this the ideal gift for a Christmas or a birthday that will be remembered forever.
The electric fan's AC-12V motor and accompanying adapter power it, producing a strong, even, and quiet airflow that creates a frictionless playing surface.
The two goals boxes need only be attached before you can begin playing, making it easy to assemble. 
The table includes two air hockey pucks and two strikers. The goal boxes make it easy to return the hockey puck, and the manually sliding abacus scorers assist in keeping track of total goals.
The air hockey table is composed of tough MDF and is enjoyable and competitive. Non-marking rubber pads are included on the little air hockey table to safeguard all table surfaces.
What size is a mini air hockey table?
Typically, mini air hockey tables are between 3-4 feet in length, making them perfect for kids or anyone with limited space. These tables may be small in size, but they still pack a punch when it comes to gameplay.  Most mini air hockey tables feature durable, glossy laminates and powerful fans for fast-paced action. 
Mini air hockey tables are also available with LED lights or sound effects, adding an extra element of fun to the game. Whether you're buying a table for your kids or just want something small enough to fit in your home, you'll be sure to find a mini air hockey table that fits your needs.
The best part about owning a mini air hockey table is that you can keep the action going no matter where you are. With their small size, these tables are easily portable, making them ideal for taking to parties and other events. As long as there's a flat surface, you can set up your mini air hockey table in minutes and start playing! 
Whether it's a family game night or an impromptu tournament, mini-air hockey tables are sure to provide hours of entertainment. If you're looking for the ultimate in gaming fun, look no further than a mini air hockey table. 
With their size and portability, these tables are perfect for anyone looking for fast-paced action in the comfortDon't let their size fool you – mini air hockey tables are sure to provide hours of fun and friendly competition. So why not add one to your home game room today?
What is a good size for an air hockey table?
Air hockey tables are a fantastic game for family and friends to enjoy together. When it comes to purchasing one, the size of the table can make all the difference in the overall experience. While there are different sizes available, experts suggest that the ideal size for an air hockey table is around 7-8 feet in length. 
This size provides enough space for players to move around while also ensuring that the game stays challenging and exciting. A good-sized air hockey table will allow for intense and competitive matches, making it an excellent investment for any game room or recreation space. So, whether you're a seasoned pro or a beginner, a 7-8 foot air hockey table is sure to provide hours of fun and entertainment for all.
How do I choose a good air hockey table?
When it comes to finding the perfect air hockey table, there are a few key factors to keep in mind. 
First and foremost, consider the size of the table and the space where it will be placed. A table that is too large for the room will not only look overwhelming but can also hinder gameplay. It's also important to look for a table with a smooth playing surface and powerful airflow. 
This will ensure that the puck glides easily across the table and it will increase the overall speed and excitement of the game. 
Finally, don't forget to consider the design and style of the table. Whether you're looking for a classic arcade style or a sleek modern look, there are plenty of options to choose from. 
With these factors in mind, you'll be well on your way to finding the perfect air hockey table for your home or game room!
What is the normal size air hockey puck?
Air hockey is a popular game played on a table with two players, each of whom uses a handheld paddle to hit a puck back and forth to the opposing player's goal. If you are wondering what is the normal size air hockey puck, it is typically 3.25 inches in diameter and weighs approximately 1 ounce. 
The size and weight of an air hockey puck are critical elements in the game as they directly affect the game's speed and spin. However, air hockey's true appeal lies in the adrenaline rush and fast-paced excitement it provides to players and spectators alike. Whether you are a seasoned pro or just starting, air hockey is a fun game that is always entertaining to play.
How long is a standard air hockey table?
Air hockey is a popular game that has been around for decades. It is played on a table which creates an exciting environment for competition. One common question that arises when talking about air hockey tables is how long they are. Well, a standard air hockey table is typically around 7 feet long. 
This size is what most people would expect to see in arcades or game rooms. However, there are variations of air hockey tables available in the market. Some are smaller, while others are larger. The size of the table can impact the gameplay, so it's crucial to choose the right one depending on the purpose or setting.
No matter the size, air hockey is a great game that can bring hours of fun and entertainment to all. So why not get an air hockey table today? With its fast-paced action, it's sure to be a hit at parties or family game nights!
What size is an air hockey table in inches?
Air hockey is a fun and exciting game that is played on a specially designed table with a smooth playing surface and a goal at each end. If you're looking to purchase an air hockey table, it's important to know the size in inches. 
The most common size for an air hockey table is 7 feet long by 4 feet wide, or 84 inches by 48 inches. However, there are also smaller and larger sizes available depending on your preferences and space limitations. No matter what size you choose, an air hockey table guarantees hours of competitive fun for players of all ages.
What is a full-size air hockey table?
Air hockey is a fun game that can be enjoyed by people of all ages. A full-size air hockey table is the type of table where the game is played. It is a large table that is specifically designed for air hockey and comes equipped with all the necessary features that are required for fun and competitive gameplay. 
The table has a smooth playing surface made of polyethylene that allows the puck to glide effortlessly across the table. There are also powerful air blowers and electronic scoring systems to help keep track of who is winning. Whether you're an experienced player or new to the game, a full-size air hockey table is a great addition to any game room or rec center.
Final Word
Up to this time, you probably know the best mini air hockey tables available.
The decision is yours to make, whether you want a durable table that will give you and your kids hours of fun or a regular table to pass the time.
With proper research, you'll surely land an excellent air hockey table!