Air hockey gaming improves with the best air hockey pucks. If your pucks are worn out or lost, that shouldn't stop you from gaming.
When choosing the pucks, check the type and design that works for your hockey table to avoid scratching it.
The pucks come in different sizes and weights; you can choose multicolored or plain ones. Stick on as we review some of the best air hockey pucks.
Quick Summary: Best Air Hockey Pucks
Best Air Hockey Pucks: Our Top 7 Picks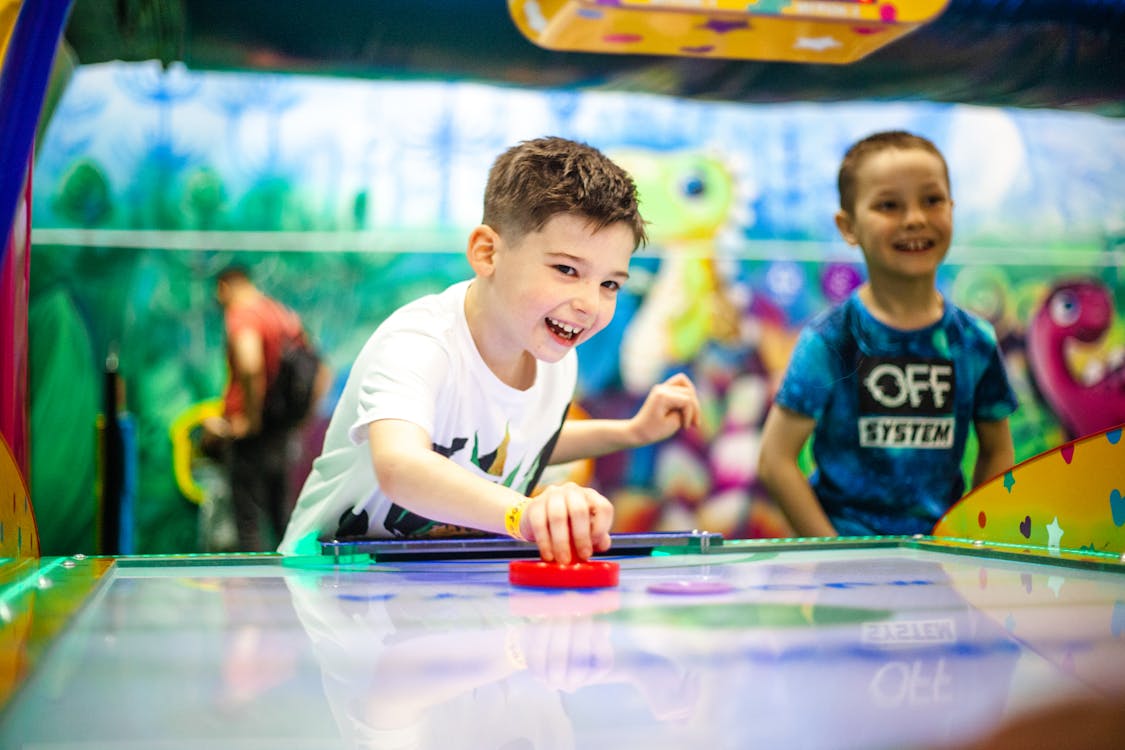 You will love this package of pucks and pushers from Uratot for your air hockey table. In the box, you will find a set of 4 red air hockey pushers, eight red hockey pucks, and eight green pads.
It's easy to store these pucks since they come with a drawstring bag. They are made using high-quality plastic with high impact to resistance.
Its green pads are durable and thick and can slide fast when protecting your high gloss table from scratches. They come in standard sizes that work for most standard air hockey tables.
The six air hockey pucks will replace lost or broken pucks. The 3 1/4 diameter fits well with almost all standard air hockey tables.
The pucks are made using ABS material that adds durability and resists chips for a long-lasting service before your next replacement.
The pucks slide smoothly on the table surface with steady airflow for an excellent gaming experience. 
The Company package of 8 red pucks, four green pads, and four air hockey pushers will improve your daily gaming experience. The set is made using high-quality ABS material that's environmentally friendly.
Its striker green bottom is thick to provide a quick gliding action on most tabletops without scratching them. The sizes are appropriate for most air hockey tables since they are small.
The humanization design paddles make you comfortable even with vigorous and competitive table play. The paddle adds stability to ensure they won't slide off the table with steady airflow.
Replace your lost or worn-out pucks with these unique plastic air hockey pucks. The plastic material is durable and will serve you for a while, plus it comes with a set of four for more service.
The red pucks are affordable even on a tight budget, and you can gift a friend for more fun gaming. Their diameters are 2.5 inches for each making them ideal for most standard air hockey tables.
The pucks are bright enough to enable you to keep rocking in your game room at night, plus you can use them in a mini air hockey table for the kids.
The set of two air hockey pucks is the best premium package for your air hockey table. The high-quality pucks can handle heavy-duty gaming.
They are made using high-density plastic that adds durability, plus they are heavier than most brands, making it hard for them to slip from the table during a fast-paced game.
Each piece's diameter is 3.25 inches, ideal for most standard air hockey tables with different arcade styles.
The pucks have a fluorescent green color that glows in the dark; you can see it when it's flowing on the table.
These awesome air hockey pucks are made using high-quality, chip-resistant ABS material that helps protect the tabletop.
It feels comfortable to hold and throw the pucks and has better control for a speedy slide and action.
Each puck has a 2.75-inch diameter, ideal for most table surfaces to take your gaming to the next level.
You will love this package of pucks and pushers for fun gaming. It consists of 4 pucks, four air hockey sliders, and a drawstring storage bag.
The sliders have a green felt on the bottom to provide a smooth movement on the table without scratching the surface.
The pucks are constructed using exclusive ABS material that adds durability and ensures high impact resistance. Each puck has a diameter of 2.5 inches and works for most standard air hockey tables.
How do I make my air hockey table smoother?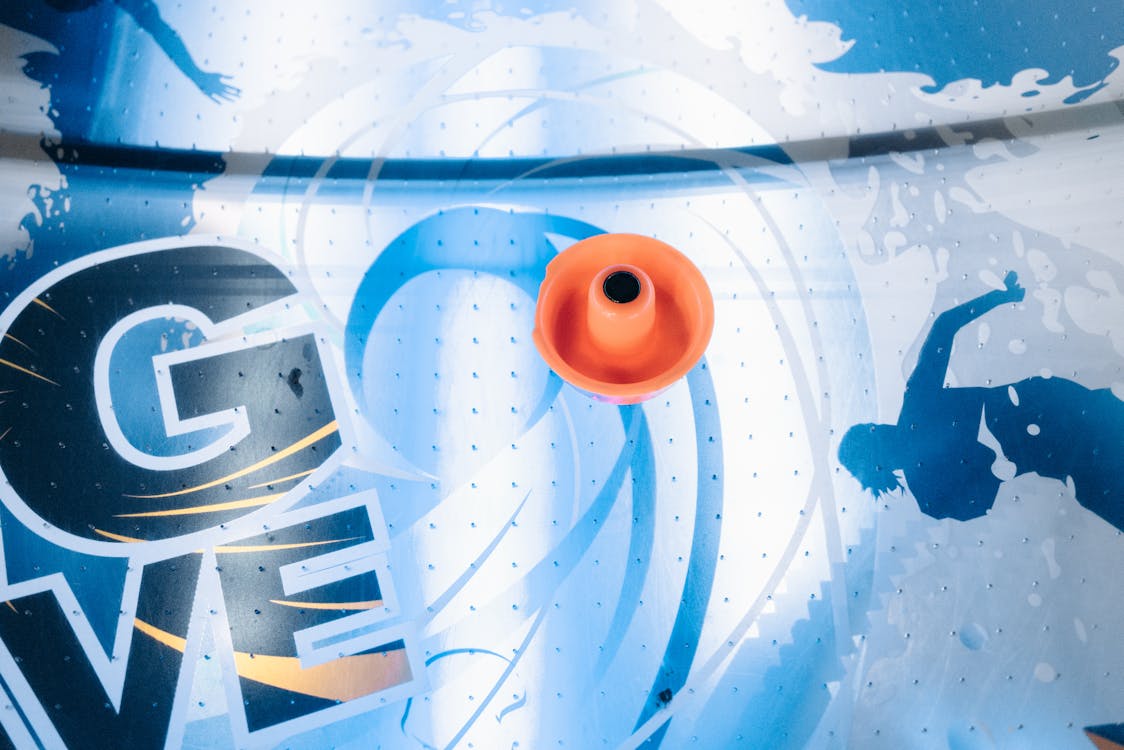 Playing air hockey can be a thrilling experience, but the game can lose its excitement if the puck isn't gliding smoothly across the table. If you're struggling with a bumpy surface, there are a few tweaks you can try to make the table smoother. 
Consider cleaning the surface with rubbing alcohol or glass cleaner, and adjust the levelers to ensure the table is perfectly level. Applying silicone spray or wax to the playing surface can also help the puck slide more easily. These simple adjustments can make a world of difference in your air hockey experience!
What are air hockey pucks made of?
Air hockey is a fun and fast-paced game that many have enjoyed since the 1970s. At the center of this game is the air hockey puck, which glides across the table at lightning speed. 
But have you ever wondered what these pucks are made of? Air hockey pucks are typically made of a type of plastic known as lexan or polycarbonate. This material is known for its durability and ability to withstand the fast-paced gameplay. 
Additionally, the edges of the puck are rounded to prevent damage to the table and ensure smooth gliding. Whether you're a seasoned pro or a first-time player, understanding the main component of the game can help you appreciate it even more.
Now that you know a bit more about air hockey pucks, let's dive into our list of the seven best options on the market. From sleek designs to durable materials, each one of these pucks offers something special for your game. Read on to learn more!
1. Ideal Air Hockey Deluxe Puck – This deluxe puck is designed with a glossy finish to prevent scratches and provide smooth gliding across the table. It's made of high-grade plastic that can withstand intense gameplay without breaking or cracking.
2. Franklin Sports 2 Pack Slotted Air Hockey Puck – This two-pack offers great value for money, as you get two different pucks to use. The slotted design further enhances the gliding effect, making the puck easier to control and giving you a more precise game.
3. Triumph All-Star Air Hockey Puck – The Triumph All-Star is an official-sized puck that's perfect for tournament play or serious air hockey fans. With its unique design and durable construction, it's sure to give you an intense game of air hockey.
4. American Heritage Air Hockey Puck – This classic puck is marked with the official logo of the National Air Hockey Association, making it a great choice for serious players. The rubberized coating helps to ensure smooth gliding while also protecting the table.
5. Atomic Super Sonic Air Hockey Puck – This official-sized puck is designed with a fluorescent orange color to increase visibility during intense games. It's made of durable materials that can withstand tough gameplay without the risk of cracking or chipping.
6. OnFireGuy Slider Air Hockey Puck – This lightweight puck is designed with an aerodynamic shape that allows for smooth gliding. It's also made of a non-marking material which helps to protect the playing surface from scratches or divots.
7. Hathaway Air Power Lightning Puck – Last but not least, this puck is designed with a lightning design to provide a unique look. It's crafted from durable materials and features an anti-jamming design that ensures smooth gliding across the table.
No matter which air hockey puck you choose, you can rest easy knowing it will offer a smooth and scratch-free playing experience. So, get your hands on one of these top-notch pucks and get ready to enjoy a thrilling game of air hockey!  Happy playing!
| Air Hockey Puck | Material | Diameter | Weight | Compatibility |
| --- | --- | --- | --- | --- |
| Atomic Blazer | Hard plastic | 3.75 inches | 1.1 ounces | Standard air hockey tables |
| Dynamo Green | Dyna-Flow plastic | 3.25 inches | 1 ounce | Dynamo air hockey tables |
| Gold Standard Games | High-density plastic | 3.25 inches | 1 ounce | Gold Standard air hockey tables |
| Harvil 3.25″ | Hard plastic | 3.25 inches | 1 ounce | Standard air hockey tables |
| Triumph Blue | ABS plastic | 3.75 inches | 1.4 ounces | Standard air hockey tables |
| Viper Sure Shot | Hard plastic | 3.25 inches | 1 ounce | Standard air hockey tables |
| Win. Max | ABS plastic | 3.74 inches | 1.4 ounces | Standard air hockey tables |
How many pucks are used in air hockey?
When it comes to air hockey, it's not uncommon for people to wonder just how many pucks are involved in the game. Well, the answer is simple – there's just one! While games like ice hockey might require multiple pucks, air hockey only calls for a single disc that glides smoothly across the table thanks to the cushion of air it floats on. 
But don't let the lack of pucks fool you – air hockey is a fast-paced and exciting game that requires quick reflexes, sharp hand-eye coordination, and skillful strategy. So grab your mallet and get ready to score some goals!
How do I choose a good air hockey table?
Air hockey tables can provide endless hours of entertainment for family and friends, but choosing the right one can be overwhelming. The first thing to consider is the size you want. Standard sizes are usually 4ft, 6ft, or 7ft long, but the right size will depend on the space you have available and how many players will be using it. 
You'll also want to keep an eye on the motor, as a good air hockey table should have a powerful motor to provide consistent and even airflow. Additionally, the surface should be smooth and durable for optimal puck glide. 
Another essential factor to consider is the quality of the table's construction. Look for materials that will hold up over time, like heavy-duty steel frames and sturdy legs. With these factors in mind, you'll be able to choose a high-quality air hockey table that will provide years of family fun and friendly competition.
How do you make a bumpy air hockey table smooth?
Making a smooth air hockey table is important to ensure that the puck glides across the surface without any hindrance. It can be difficult to get an old, bumpy air hockey table back in shape, but with some patience and effort, you can make it as good as new again.
The first step is to sand down all surfaces of the table using sandpaper or a power sander. Once this has been done, use wood filler to fill in any cracks or holes on the surface of the table.
Finally, apply several coats of varnish or paint to give your air hockey table a smooth finish and protect it from further damage. With these steps completed, you will have a smooth playing surface for hours of fun!
Final Thoughts
With the right accessories, air hockey becomes more fun, and when replacing your pucks, ensure you get high-quality ones for quality and durable service.
The pucks should be lightweight for a steady flow on the table.
It would help if you got paddles alongside the pucks to protect the table from scratch. Remember to check the size and ensure they are manageable for a standard table.