When buying an air hockey table, size is a factor you'll want to consider. Regulation-size tables are typically eight feet long and four feet wide.
They are ideal for serious players or commercial use. Seven-foot air hockey tables are big enough for children and adults to play on. Wide enough seven-foot tables can even allow for games of doubles.
Most 7-foot tables offer advanced performance features that guarantee maximum levels of enjoyment.
The list below looks at the best 7-foot air hockey tables available in the market and the features that make them popular among air hockey enthusiasts everywhere.
Quick Glance: Best 7-Foot Air Hockey Tables
Best 7-Foot Air Hockey Tables – Top 5 Picks
Air hockey tables don't come much better than the Puck Apollo. It is elegant with impressive features. It has a sleek, modern design, a black and gray color combination, and silver details all over the layout.
The table comes with an MDF playing court with a glossy yet hard playing surface. Its dimensions? 84''L x 48'' W x 32'' H.
It also features an air blower strong enough to last you a whole game quickly plugged into any 110V-240V outlet.
The wood used to make this air hockey table is lightweight but heavy-duty, creating a perfect balance between stability, sturdiness, and longevity.
If you're unsure where to put the table, you can move it around. The playing surface is guaranteed sturdiness and stability regardless of the state of the floor it's standing on, thanks to the leg levelers fitted to the tables.
Here is the best 7-foot air hockey table that will elevate your game room to higher levels. The Puck Atlas comes with everything you need to get you started, that is, four hockey pucks and four red hockey strikes.
The black-and-white color combinations give the table an elegant aesthetic. The legs are solid and sturdy, stable enough even for uneven floors.
The table also features removable netted goals with patented puck-centering profiles, making it easy to set up shots.
It is suitable for beginners and intermediates. Families that love air hockey should check out the Puck Atlas air hockey table.
The table is also easy to maintain. Once you finish playing, the waterproof nylon cover can prevent dirt and debris from damaging the playing surface. The strikers and pucks can be kept safe by putting them in a bag that comes with the table.
The Atomic Blazer is another seven-foot air hockey table worth considering. It is built solid and sturdy with advanced performance features to make games more engaging and exciting.
The table has a heavy-duty 120V blower that ensures fast play. The overhang rails reduce puck bounce.
You can keep tabs on the scores with the electronic monitoring feature with a rail-integrated display.
The table is equipped with leg levelers to ensure the playing surface is even despite the condition of the floor.
The Atomic Blazer can accommodate a table tennis conversion top if you want. Place the table in your gaming room, rec room, garage, or living room for everyone's recreation.
Add another dimension to your gaming room with the Viper Vancouver 7-foot air hockey table.
It features a large enough playing field for outsmarting and outmaneuvering your opponents. The playing surface has a glossy finish and hockey rink graphics that give it an authentic look.
The arena look is further enhanced with a triangular scorer and timer, counting down 10, 15, or unlimited minute time options.
The large playing surface is complemented by a powerful 110 V motor that outputs 110 cubic feet per minute of airflow. The steady stream of powerful air ensures the pucks are constantly flowing smoothly and quickly.
The table comes with four pushers and four pucks for replacement purposes. The leg levelers provide a level playing surface throughout.
The Sherwood air hockey table is a handsome multi-functional table crafted from sturdy, and CARB-certified MDF material.
It features clean lines covered in a beautiful light Cherry melamine that showcases the rich grain of cherry wood.
The Sherwood easily converts from a dining or craft table to full-blown competitive table tennis or air hockey table with its unique, in-rail, electronic scoring display.
The super-slick play surface and competition-level air blower system deliver accurate air hockey table play. The Sherwood table is designed and built to withstand vigorous table play over a long period.
The table includes matching benches with built-in storage and two soft-padded seat cushions that provide convenient and comfortable seating while keeping your game accessories close to the table and organized.
7-Foot Air Hockey Table – What are its Key Benefits
A 7-foot air hockey table is the perfect addition to any game room or entertainment space for endless hours of fun. One of the key benefits of this table is its impressive size, providing ample space for players to move around and compete in fast-paced games. 
The powerful blower system drastically reduces friction, resulting in smooth and fast gameplay that keeps players engaged and entertained. Additionally, the sturdy construction of these tables means that they can withstand the wear and tear of frequent use, making them a durable investment for any household. 
Overall, a 7-foot air hockey table offers both entertainment and durability, making it a great choice for families, friends, or any group looking for a thrilling game experience.
The 7-Foot Air Hockey Table with a Built-in Blower System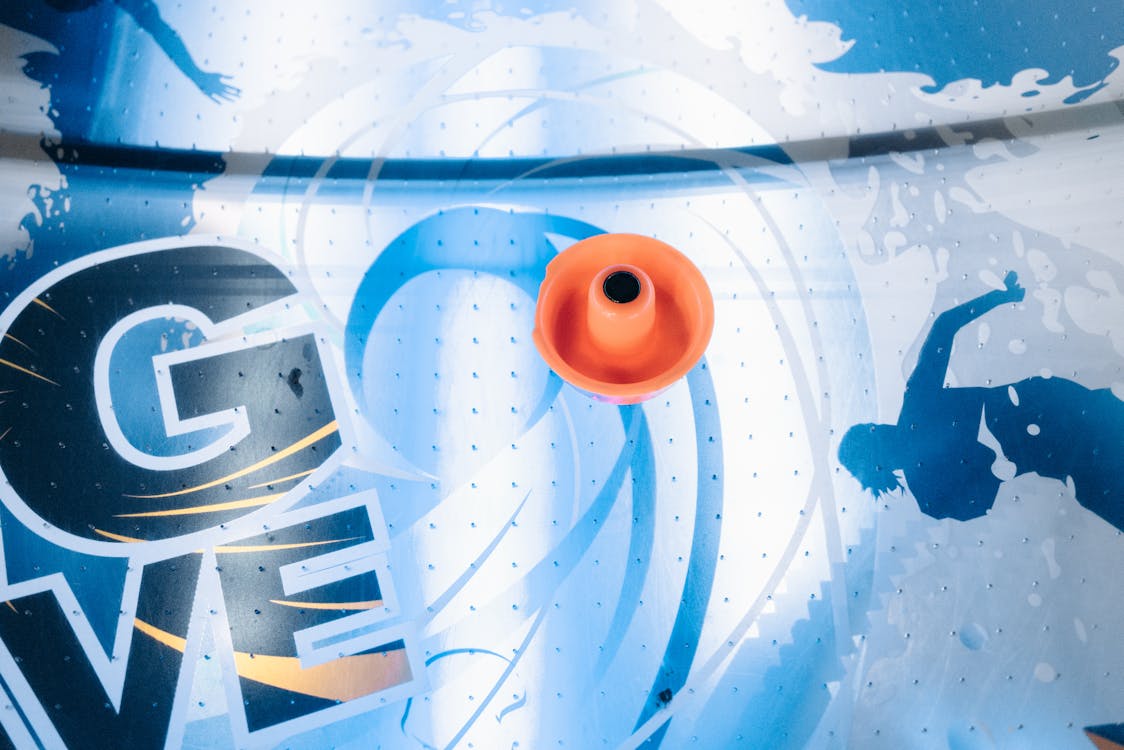 Get ready to take your game nights to the next level with the 7-Foot Air Hockey Table featuring a built-in blower system. This impressive table is not only built to perfection but also comes with an ultra-powerful airflow system that is guaranteed to make for fast and exciting gameplay every time. 
With its 7-foot playing surface, you'll have plenty of room to challenge your friends and family to thrilling matches that will keep everyone entertained for hours. So why not up the ante and add this amazing air hockey table to your game room collection today?
The 7-Foot Air Hockey Table with a Digital Scoreboard
Get ready to take your air hockey game to the next level with the 7-Foot Air Hockey Table and its digital scoreboard. This high-quality table is designed to provide the ultimate entertainment experience for you and your friends. 
With its sleek and modern design, it is sure to be a standout addition to any game room. The powerful blower system works seamlessly with the high-gloss playing surface to provide fast and furious game action, while the digital scoreboard keeps track of every point scored. So what are you waiting for? Grab your puck and mallet and get ready to score big on this impressive air hockey table.
The 7-Foot Air Hockey Table with Colorful LED Lights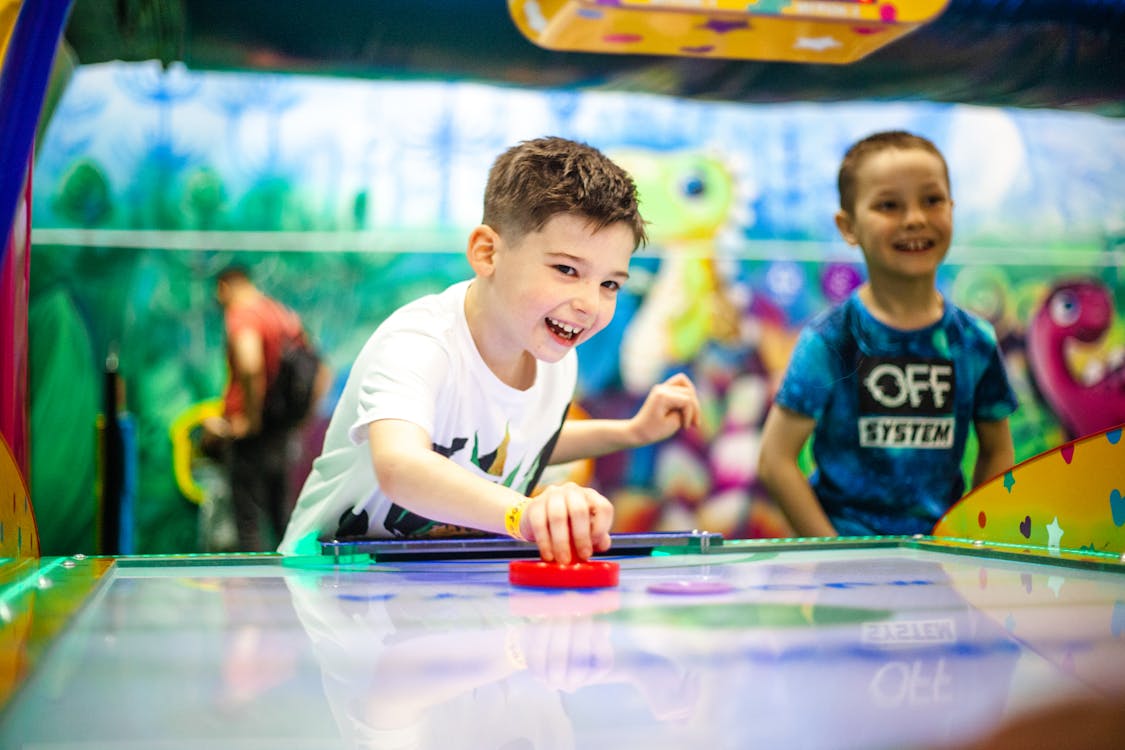 Experience the ultimate gaming experience with the 7-Foot Air Hockey Table featuring colorful LED lights. This feature-packed table is sure to take your game nights to the next level with its high-gloss playing surface and powerful blower system. 
Not only that but it also comes with a set of built-in LED lights that will light up the room and create an exciting atmosphere for your competition. So why not bring home this amazing air hockey table and challenge your friends to some good old-fashioned games with a modern twist?
These are just some of the features that make 7-foot Air Hockey tables so great. With their impressive size and powerful blower systems, they can provide hours of fast-paced gaming entertainment for your family and friends. Whether you're looking to upgrade your game room or just want an afternoon full of excitement, an air hockey table is the perfect addition. So why not grab one today and get the party started?
Is a 7-foot air hockey table big enough?
When it comes to choosing an air hockey table, size matters. While a 7-foot table may seem like a good option, it ultimately depends on your preferences and needs. 
If you have limited space in your home or game room, a 7-foot table may be the perfect size to still enjoy the fast-paced fun of air hockey without sacrificing too much space. On the other hand, if you have a larger room or plan on hosting competitive tournaments, a bigger table may be necessary to accommodate players of all skill levels. 
Ultimately, it's important to consider your space, budget, and intended use when deciding whether a 7-foot air hockey table is right for you.
What to look for when buying a used air hockey table?
If you're in the market for a used air hockey table, there are a few things you should keep in mind to ensure you get the best possible deal. First and foremost, check the playing surface for any scratches or dents that could affect gameplay. 
Additionally, examine the air blower and ensure it's working properly to allow for fast-paced gameplay. Look for any signs of wear and tear on the table's legs and frame, and make sure they're sturdy enough to support even the most intense games. 
Finally, be sure to test out the puck and paddles to ensure they're in good condition and will provide a smooth gameplay experience. With these factors in mind, you'll be well on your way to finding the perfect used air hockey table for your home or game room.
What is the price of a 7 ft air hockey table?
Have you been eyeing a 7ft air hockey table for your game room or man cave? You may be wondering what the price tag looks like for this sought-after item. 
Well, the price of a 7ft air hockey table can vary depending on the brand, materials used, and additional features. However, on average, you can expect to spend anywhere from $500 to $1,500. 
But don't let the cost scare you away – investing in a high-quality air hockey table can provide years of entertainment and friendly competition with family and friends. So why not take the plunge and elevate your game room with a top-of-the-line 7ft air hockey table?
Do air hockey tables last?
Air hockey tables are a fun way to spend time with family and friends, but the question on everyone's mind is, do these tables last? The answer is, it depends. 
Many factors come into play when examining the durability of air hockey tables, such as the brand, materials used, and frequency of use. Generally, higher-priced models tend to have a longer lifespan due to better-quality materials and construction. 
However, regardless of the brand or price point, proper maintenance and care can significantly extend the life of an air hockey table. With regular cleaning and maintenance, an air hockey table can provide endless hours of entertainment for years to come.
Final Word
Getting an air hockey table is a big deal that requires thoughtfulness. You don't want to make a pretty costly purchase only to end up regretting it.
The list above will help you make an informed decision on which table suits you and your friends and family best.
If you understand what you want, you should get something from the tables listed. Now go and create those memories with your loved ones!