Air hockey tops the list of home games, especially if you are not an outdoor person.
If you value your family and its unity, you can purchase the tables for home gaming for adults and kids.
Depending on who is purposed to use the table, whether for fun or competitive gaming, get the quality that suits you. A table with a scorekeeper will encourage fairness in gaming.
All you need when playing the game is hand and eye coordination, concentration, and thinking of a way to get your puck into your competitor's goal.
Before settling for an air hockey table, check that the size, material, power source, and airflow match your preference. Don't forget to go for one that fits your budget.
Stick on to see some of the best air hockey tables for home gaming.
At a Glance: Best Air Hockey Tables for Home
The hockey table from Haxton is one of the high-quality ones you will encounter.
It's made of composite wood that is very strong combined with PVC. The legs are sturdy, not forgetting about the non-marking rubber bands installed to protect the table's surface.
Kids aged three years and above can enjoy gaming with the table at home. The table dimensions are 40″ by 21 by 8″.
You will take the shortest time to assemble the table; all you need is to attach the goal boxes and start gaming.
With the DC-12V motor and an adapter, you are assured of a steady airflow that makes the playing area frictionless, making the game fun and realistic.
If you need an air hockey table to keep your kids busy at home and improve their gaming concentration, the hockey table will work perfectly.
What's in the box? An electronic air hockey game, four paddles, six pucks, a sticker sheet, and two bridge pieces.
Your kids will learn to challenge their opponent or get challenged to build up their playing pace during the game.
It has electronic airflow that enables the puck to hover above the rink. The air cushion allows the puck to move swiftly to your opponent's goal, and you will make maximum scores here.
Note that you are required to purchase the 2″ C" batteries that are not available in the package.
Gaming will be better when using the air hockey from Mainstreet GLD products. It has an appealing color that will rhyme with your gaming room décor.
The mini-size table is the best; it doesn't take up much space in your gaming room. It's made of solid plastic for durability and strength.
It's 35″ by 20″ by 8.25 "in size making it movable from one place to another; you can take the fun gaming outside as you can place it on a flat surface or a table.
The motor is powerful with 110V allowing for steady and always composed airflow for improved gaming.
There are two pushers, two pucks, and a pair of sliding scorers to keep records of scores in the box.
If you are a game enthusiast looking for a real-life experience with air hockey, Matty's Toy Stop has the best.
It comes as a set that combines two table games: the air hockey and soccer tables that will fill your family time with fun.
You don't need a gaming room for this set; you can place it in your living room. It's lightweight, making it movable to the location you want to enjoy the game.
You are required to assemble the table, but there is nothing to worry about since all materials required are available with an additional Allen wrench.
The air hockey park comes with four pucks and two handle shooters. Purchase a 3AA battery that is not included in the box.
Franklin designed the air hockey to fit perfectly in any gaming room and work well for people without gaming rooms.
The slide scorer enables you to keep track of the fast scores. Controlling the pucks is easy using the mini pushers.
The two mini packs make it ideal for you to play with a friend or keep your kids engaged when you are busy.
You can start using it when removing it from the box since no assembling is needed. In the box, you expect to find two mini air hockey pucks and two mini pushers.
People who love Super Mario will find this the best air hockey table for home; kids will appreciate it due to its colorful nature.
Other inclusive action figures include Shaky Tower, Blow-Up, and Piranha Plant Escape, where you can use 3D plates.
The pack has four paddles in two sizes, six pucks in three different shapes, and four interchangeable goals.
Making a Super Mario twist will help you face your opponent quickly and show your prowess in air hockey. With 15 goals, you win the game.
Purchase a 2C battery for the hockey table. Ensure kids aged three years and below don't use the table since it contains tiny pucks. Kids above four years are allowed to use it.
| Rank | Name of Air Hockey Table | Dimensions | Weight | Price |
| --- | --- | --- | --- | --- |
| 1 | Atomic Top Shelf 7.5′ | 90″ x 50″ | 350 lbs | $1,199 |
| 2 | Brunswick 7ft Windchill | 84″ x 48″ | 200 lbs | $899 |
| 3 | Playcraft 7′ Sport | 84″ x 48″ | 165 lbs | $669 |
| 4 | Harvil 4ft Air Hockey | 48″ x 24″ | 33 lbs | $69 |
| 5 | Triumph Fire 'n Ice | 54″ x 27″ | 39 lbs | $149 |
| 6 | Best Choice Products | 54″ x 27″ | 50 lbs | $109 |
Note: Dimensions are in inches and weight is in pounds. Prices may vary based on location and time.
What is a home-size air hockey table?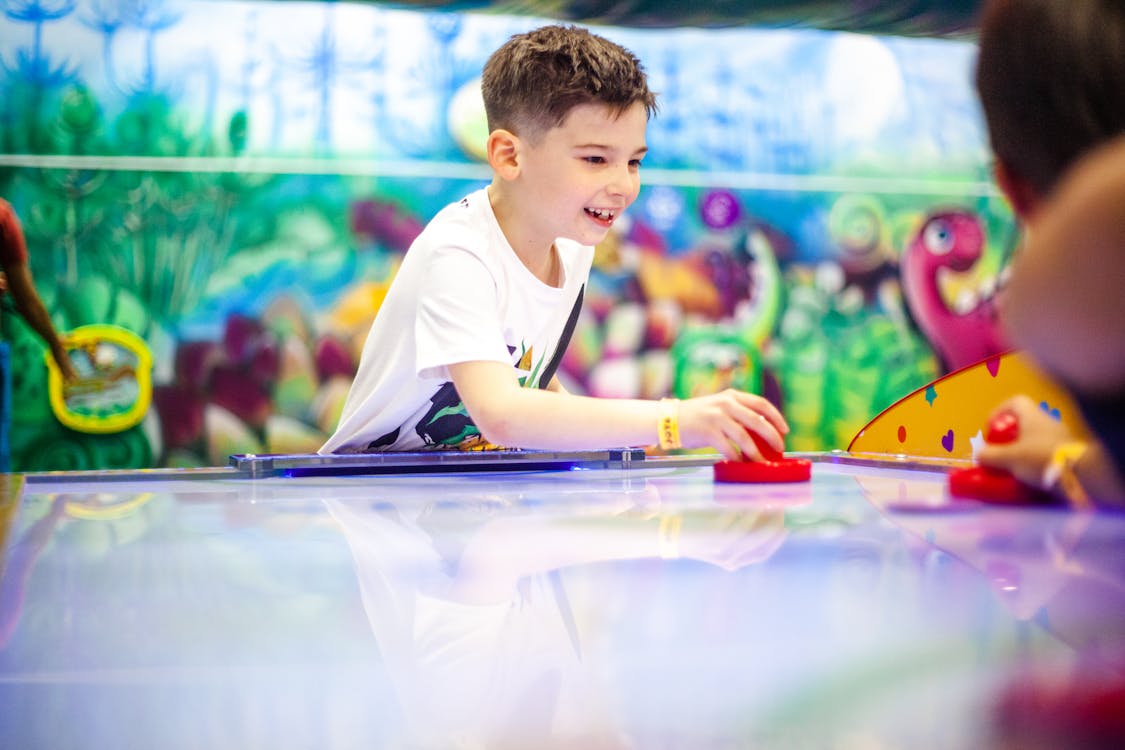 A home-size air hockey table is essentially a smaller version of the classic game you'd find at an arcade. These tables, designed for home use, typically range from 4 to 6 feet long and 2 to 3 feet wide.
They're perfect for families or avid game enthusiasts who want to enjoy the excitement of air hockey in the comfort of their own homes. While they may not offer the same size and durability as commercial-grade tables, they still provide hours of entertainment and are perfect for smaller spaces.
Home-size air hockey tables come in a variety of styles and designs, ensuring that everyone can find one that fits their unique personality and home decor.
How do I choose a good air hockey table?
Choosing a good air hockey table can be a daunting task. With so many options, it's important to consider a few key factors to make the best decision. Firstly, consider the size of the table.
If you have limited space, opt for a smaller table that can easily fit in your home. Secondly, check the power of the blower system. A powerful blower will provide a faster and more intense gameplay experience.
Thirdly, look for a table with a durable playing surface made of high-quality material. This will ensure longevity and optimal playing conditions. Lastly, consider the price point and your budget.
With these factors in mind, you'll surely find the perfect air hockey table for your needs.
What is the ideal size air hockey table?
When it comes to air hockey, the size of the table can have a big impact on your gameplay. The ideal size air hockey table will depend on a few factors, such as the size of the room it will be placed in and the skill level of the players.
Generally, a table that is between 6 to 8 feet long and 3 to 4 feet wide is ideal for most players. However, if you have more space available, you could consider a larger table to make the game more challenging.
On the other hand, if you are just starting or have younger players, a smaller table would be a better fit to help them develop their skills. Ultimately, the size of the air hockey table should be comfortable for the players and allow for a fun and competitive game.
Are air hockey tables worth it?
Air hockey tables have been a popular source of entertainment for decades. They offer a fast-paced, exciting game that can be enjoyed by people of all ages. But the question remains, are they worth the investment?
Well, it depends on what you're looking for. If you're someone who loves hosting parties or enjoys family game nights, then an air hockey table might just be the perfect addition to your home. It provides endless hours of fun and is great for bonding with friends and family.
Not to mention, it's a great way to improve hand-eye coordination and reflexes. So, if you're considering getting an air hockey table, go for it! It's a worthy investment that you won't regret.
What is the normal size air hockey puck?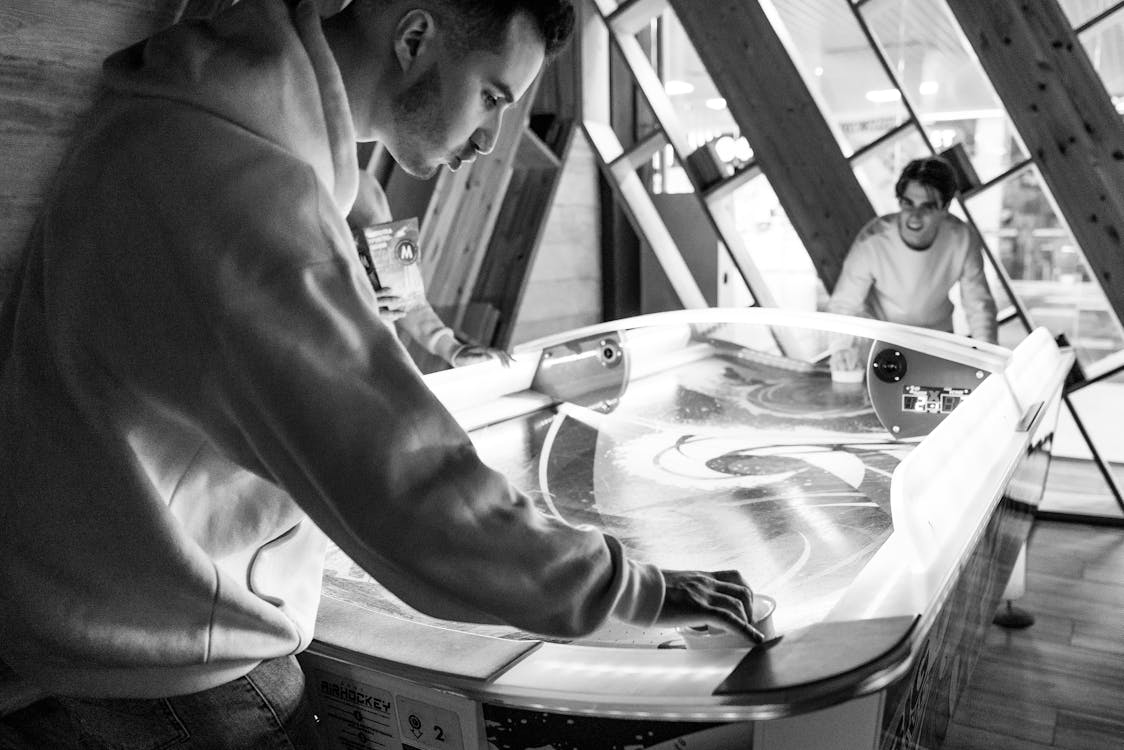 Air hockey is a fun and exciting game that requires skill and precision. One of the key components of this game is the puck. The size of an air hockey puck is essential to the game's overall experience.
The typical size of an air hockey puck is 3 1/4 inches in diameter and 1/8 inches thick. It is important to note that the size of the puck may vary, but it must not exceed 3 1/4 inches in diameter.
This ensures that the game is played fairly and allows players to glide the puck smoothly across the table. So next time you play air hockey, you can impress your friends with your knowledge of the standard size of the puck!
What is the best brand of air hockey?
If you're looking to take your gaming experience to the next level, then investing in one of the best air hockey tables for home is a great way to start. Air hockey is an incredibly fun game that requires quick reflexes and skill.
It's also incredibly competitive, making it perfect for family gatherings or friendly competitions between friends. With so many air hockey tables available on the market, it can be difficult to decide which one is right for you. To help narrow down your search, we've compiled a list of the six best air hockey tables for home.
The first option on our list is the Hathaway Midtown Air Hockey Table
The second option on our list is the Triumph Lumen-X Lazer 6' Air Hockey Table.
The third option on our list is the Atomic 9' Blazer Air Hockey Table.
The fourth option on our list is the Carrom Signature Stick & Puck Air Hockey Table
The fifth option on our list is the Browning Maverick Air Hockey Table
Finally, our last option on the list is the Brunswick Air Hockey Table
Do air hockey tables last?
Air hockey tables are a popular choice for family game rooms and leisure spaces, providing hours of entertainment for people of all ages. However, with frequent use, it's natural to wonder if they can stand the test of time.
Fortunately, in most cases, air hockey tables are built to last. High-quality tables constructed with durable materials like wood or composite can withstand years of gameplay and still function perfectly.
However, like with any piece of furniture or equipment, regular maintenance and care are essential to ensure longevity. With proper cleaning and upkeep, an air hockey table can remain in excellent condition and remain a fixture in your home for years to come.
How much is the average air hockey table?
Air hockey tables are a great addition to any game room or entertainment space. They provide hours of entertainment and can be enjoyed by people of all ages.
If you're thinking about getting one, you may be wondering how much they cost. The average air hockey table can range anywhere from a few hundred to a few thousand dollars depending on the size and features you're looking for.
While it may seem like a big investment, it's important to remember that these tables are built to last and will provide endless fun for years to come. So, whether you're a seasoned air hockey pro or just getting started, investing in an air hockey table can be a great choice for your home.
Final Word
When gaming is part of you, you have every reason to purchase the best air hockey table for your home. Purchasing it for your kids will keep them busy and improve their concentration. 
Once you have your package, practicing and enjoying the play will be easier. 
Hope the review helps you make the best decision.