If you're looking for a new air hockey table to add to your home game room, you're in luck. We've put together a list of the 10 best-rated air hockey tables on the market right now. Air hockey is a great family game that can be enjoyed by people of all ages.
Whether you're a beginner or an expert, there's a perfect air hockey table for you.
Hockey Table Introduced
Air hockey tables are one of the most iconic pieces of classic arcade furniture. An air hockey table is typically a flat, smooth playing surface with a puck hovering above it on a cushion of air.
This is created by small pneumatic fans located directly beneath the table top and dispersed throughout small holes in the surface. The two players, each using paddles with mallets attached to them, score points by shooting the puck into their opponent's goal area.
Read more: The Best Puck For Air Hockey Table: Top 5
A great air hockey table will provide fast-paced action for all skill levels, no matter whether you're playing for fun or aiming to become a competitive player! High-quality tabletop air hockey tables will also come equipped with additional features like LED lights and sound effects that create an exciting atmosphere and help bring friends and family together for some friendly competition.
Read more: What Are The Correct Dimensions Of An Air Hockey Table?
10 Best-Rated Air Hockey Tables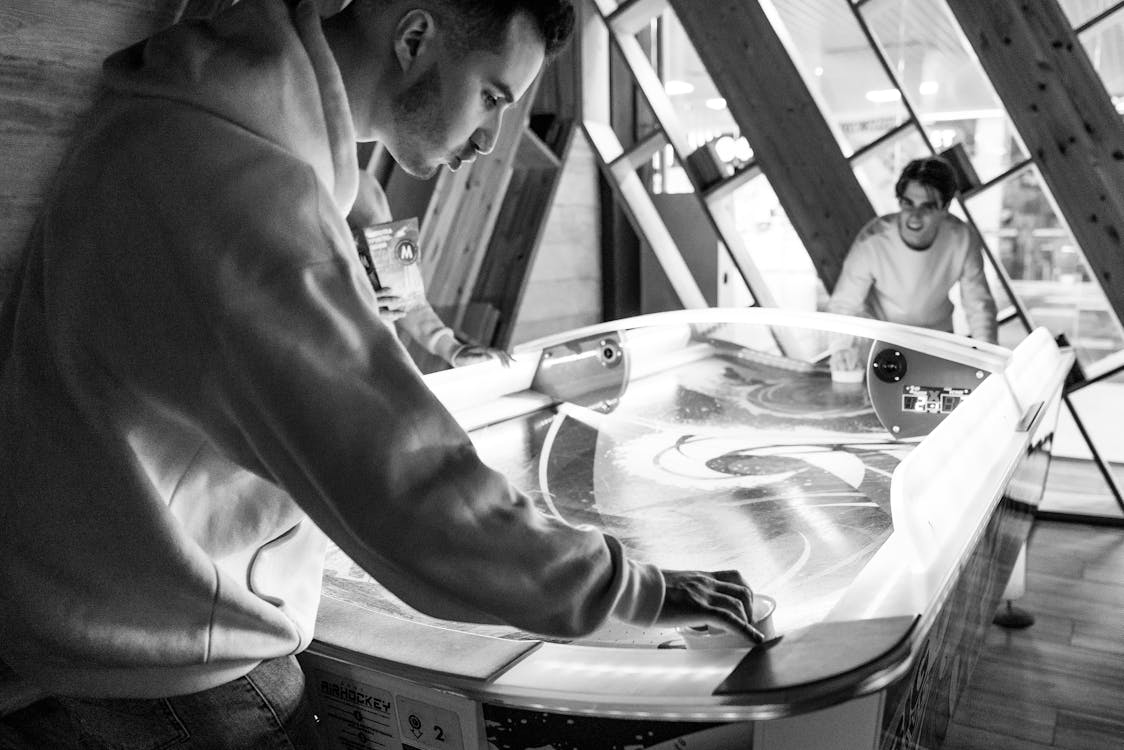 Air hockey is a great table tennis game for all ages, and now it's easier than ever to bring the fun and excitement of an arcade right into your own home! The 10 best air hockey tables take this classic game to the next level.
1) EastPoint Sports NHL Air Hockey Table
The EastPoint Sports NHL Air Hockey Table is the perfect way to entertain friends and family while bringing out everyone's competitive spirit. The game is made up of a smooth, slick playing surface allowing for great airflow and fast-paced gameplay.
The opportunity to play as an NHL superstar awaits with officially licensed features such as graphics and logos from 30 different NHL teams. Designed for optimal durability and quick setup, this authentic arena-style table comes with all necessary accessories including 2 pushers, 2 pucks, and a manual scorekeeper so you can get the game going right away – no assembly required!
2) Gold Standard Games Home Pro Elite Air Hockey Table
This impressive model is one of the top air hockey tables and this will be a great addition to any home entertainment setup. It features premium components like an industrial-grade aluminum chassis, a high-quality blower motor, and leg levelers for maximum stability.
This not only makes playing more pleasant but also keeps it from becoming too loud when there's company over. Best of all, you can engage in competitive play without having to leave the house thanks to its DynaBlast performance technology.
3) Harvil Beachcomber Indoor Air Hockey Table
This air hockey table measures a full 90 inches long and provides plenty of space for up to 4 players. With its sleek, modern look and bright LED distractions, you'll no doubt find yourself immersed in intense air hockey tournaments all night long.
The dynamic leg system of this ping pong table ensures maximum stability while a built-in resistance fan reduces turbulence on the 112 sq. ft playing surface. It even includes automatic electronic scoring which tracks every goal so your competition can be taken to the next level!
Read more: Foldable Air Hockey Table: A Buyer's Guide
4) Triumph Lumen-X Lazer
Looking for a fun, family-friendly activity? Look no further than the Triumph Lumen-X Lazer Air Hockey Table. With a poly-sealed playing surface and a bright blue-colored polycarbonate playing field, this table takes entertainment to the next level with colorful LED lights, pulsating sound effects, and lenses that amplify laser trails for enhanced gameplay.
It even sports two powerful dual AB fans that keep the puck gliding fast and smooth across the table. So let your family gather around this ultimate air hockey table by Triumph Lumen-X and get ready for hours of thrilling competition!
5) Harvil 5-Foot Air Hockey Table 
Not only is it designed with exciting fast gameplay, but this table also boasts increased stability, thanks to its leg levelers and 3-inch legs. Adding to the immersive experience is its 110V Motor which blows consistently across the table's surface for quick puck action.
To help you keep track of the scores, this compact air hockey table also features electronic scoring units on each side with manual slide scorers. Whether you're looking for intense competition or just some extra fun, the Harvil 5-Foot Air Hockey Table can deliver hours of awesome gaming experience in your own home.
6) MD Sports Air Powered Hockey Table
This best air hockey table comes with all the accessories you need to get started – two pushers and two pucks – plus it also incorporates a low-profile design for convenient storage when not in use.
It also features an electric scoring system that keeps track of each team's progress so you can keep score without needing any extra tools. With adjustable leg levelers, this hockey tabletop will always stay level giving players a smooth game-playing experience every time.
Read more: Which Is The Best Rhino Air Hockey Table?
7) ESPN Air Hockey Game Table
This product has an eight-foot playing surface with smooth legs to ensure maximum stability. It also features leg levelers for even more strength and reinforcement. With quality craftsmanship and attention to detail, this product is sure to last you years of fun. You're sure to get your money's worth as it comes with two goals with drop pockets, two pushers, two pucks, and even side rails for fast play and exciting rebounding action!
8) Valley-Dynamo Pro Style Air Hockey Table
It boasts a heavy steel ease block with Vinyl Laminate and Enduro surface to provide a smooth and responsive playing field. The quick rebound rubber gasket rail system ensures intense and exciting gameplay while the 110V motor guarantees a consistent airflow of air throughout the table.
Not only is the Valley-Dynamo Pro Style Air Hockey Table great fun, but it also features leg levelers so you can easily customize the playing height to meet all skill levels.
9) Brunswick Windchill Air Hockey Table 
This table is the top of the line when it comes to bringing the classic fun of air hockey into your home. With a sleek and modern design, this compact table guarantees hours of intense play with friends and family.
It is designed with a rugged aluminum rail that surrounds a glossy, low-friction playing surface, allowing pucks to glide across seamlessly. The high-powered motor provides for stronger yet quieter airflow to give you that fast and realistic arcade experience at home.
10) Hathaway Bandit 5′ Air Hockey Table 
This home air hockey table is designed with beginners and experienced players in mind, offering five different settings to adjust according to skill level. While this midsize table is ideal for families, it offers four separate controllers, so friends and family can join in on the fun! The top surface is glossy poly-sealed for a fast-paced gaming experience just like in an arcade.
All of this packed into one durable yet lightweight construction makes it a perfect addition to any game room or recreation area. Plus, when set up, the sleek black body will look great with any décor.
Read more: The Best Air Hockey Table For Kids: Top 7
| Brand | Model | Size | Features | Rating | Price Range |
| --- | --- | --- | --- | --- | --- |
| Playcraft | Center Ice | 7 feet | 110V motor, electronic scoring, sturdy construction, adjustable leg levelers | 4.9/5 | $700-$1000 |
| Atomic | Top Shelf | 7.5 feet | 120V motor, electronic scoring, built-in accessory storage, LED lighting | 4.8/5 | $1000-$1500 |
| Hathaway | Phantom | 7.5 feet | 120V motor, electronic scoring, scratch-resistant playing surface, built-in puck catcher | 4.7/5 | $800-$1200 |
| Triumph | Fire 'n Ice | 6 feet | 110V motor, electronic scoring, built-in sound effects, colorful graphics | 4.6/5 | $400-$600 |
| ESPN | Air Hockey | 7 feet | 120V motor, electronic scoring, built-in cup holders, sturdy construction | 4.5/5 | $500-$800 |
| Viper | Vancouver | 7.5 feet | 110V motor, electronic scoring, adjustable leg levelers, built-in puck return | 4.4/5 | $800-$1200 |
| Best Choice Products | 54-Inch | 4.5 feet | 100V motor, electronic scoring, compact size, lightweight | 4.3/5 | $100-$200 |
| Fat Cat | Storm | 7 feet | 110V motor, electronic scoring, built-in puck return, durable construction | 4.2/5 | $600-$1000 |
| Brunswick | Windchill | 7 feet | 110V motor, electronic scoring, scratch-resistant playing surface, built-in sound effects | 4.1/5 | $800-$1200 |
| Lancaster | Arcade | 8 feet | 120V motor, electronic scoring, built-in sound effects, sturdy construction | 4.0/5 | $1000-$1500 |
What is a good brand of air hockey table?
When it comes to finding the best air hockey tables for your home, you want to make sure that you are investing in a quality product. There are many brands on the market, so it can be difficult to determine which one is right for you. 
In this guide, we'll go over some of the top-rated brands of air hockey tables, as well as provide information about what size table to purchase, whether an air hockey table is worth the investment, and what to look for when buying a used model.
First off, let's talk about which brand of pool air hockey ping pong table is best suited for your home. Top-rated models include Gold Standard Games, Brunswick Air Hockey Tables, and Hathaway Home Arcade Tables.
When it comes to finding a good brand of air hockey table, there are a few things to consider. The first is size. Are you looking for a table that will fit in a small game room or do you have a larger space that can accommodate a full-sized table? 
Next, consider the build quality of the table. Look for a brand that uses high-quality materials and has a reputation for durable construction, as you don't want your table to break down after just a few games. Finally, consider the features the table offers. 
Some tables come with electronic scorekeeping and automatic puck return which can add to the overall experience. Some good brands to consider are Atomic, MD Sports, and Triumph. These brands offer a variety of sizes, sturdy construction, and fun features to enhance your air hockey playing experience.
What is a good size for an air hockey table?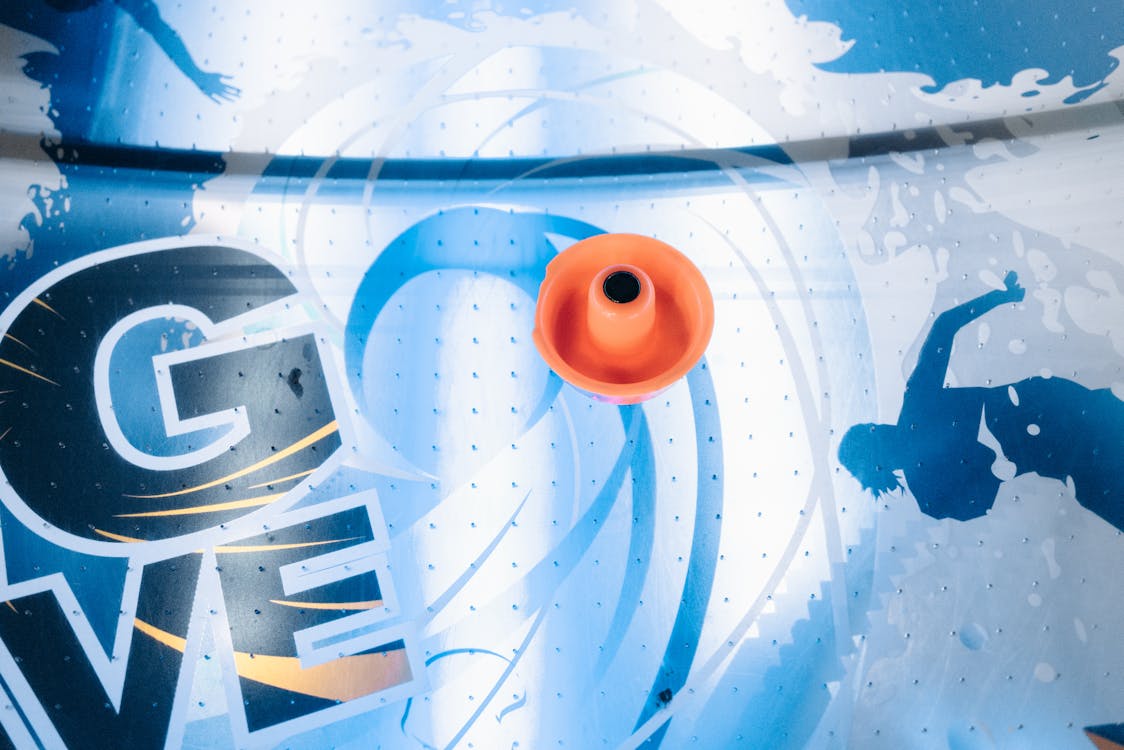 When it comes to air hockey tables, size matters. The ideal table size depends on factors such as the level of players' skills, their age, and the space available in the room. For beginners or younger players, a smaller table, around 4-6 feet long, may be a good fit. 
This size allows for easier gameplay and maneuvering of the puck. However, for more experienced players, a larger table, around 7-8 feet long, may be preferred. This size allows for more challenging gameplay and plenty of room for advanced techniques. 
Ultimately, the key is to choose a table size that matches the players' skill level and provides enough space to move around comfortably. So whether you're a novice or an air hockey pro, there's a perfect-sized table out there for you!
Are air hockey tables worth it?
Air hockey can be an incredibly fun game that the whole family can enjoy; plus, it's easy to learn and requires minimal setup time compared to other gaming systems such as pool tables and pinball machines. 
Investing in an air hockey table is an excellent way to bring the fun of arcade gaming into your home. That being said, you should also consider other factors when deciding if a quality air hockey table is worth it for you. 
First, what size of table do you need and how much space do you have available? Larger tables are usually more expensive but may offer more competitive gameplay as well as plenty of room for advanced techniques. 
Second, consider the type of gameplay you're looking for; electronic tables provide bonus features such as sound effects and automatic scorekeeping while manual tables provide a more traditional gaming experience. 
Finally, research the brand and read reviews to make sure that you are getting the most durable product possible.
When taken into consideration, these factors can help you determine if an air hockey table is worth it for your situation.
What to look for when buying a used air hockey table?
When purchasing a used air hockey table, there are several things to consider. First and foremost, inspect the table thoroughly and make sure that all parts are in working condition. 
Check the puck glider rails for any signs of rust or wear as this could affect gameplay performance. Also, make sure to test out the electronic scoreboard and automatic puck returner, if applicable, to ensure that they function properly before making your purchase.
In addition to inspecting the condition, also research information about the brand of table you're considering buying. Reading reviews from other consumers can give you an idea of what to expect from the product. 
If the table is a popular brand, it's likely that some parts can be replaced if needed in order to extend the life of the table.
How long does an air hockey table last?
The longevity of an air hockey table depends on a variety of factors including how often it is used and how well it is taken care of. A quality air hockey table should last between 10-15 years if cared for properly. 
It's important to regularly check all parts and pieces for any signs of wear such as rusting or chipping. Proper maintenance includes wiping down your table with a cloth after each use and making sure all puck glider rails are cleaned and oiled periodically. 
Additionally, if your air hockey table is of the electronic variety, make sure to replace any batteries as needed.
Is there professional air hockey?
Yes! Professional air hockey leagues are becoming increasingly popular around the world. The US Air Hockey Association (USAA) was formed in 1987 and hosts tournaments for both amateur and pro players. 
The World Air Hockey Championship is held annually and teams from all over the world compete for the title. If you're looking to take your game to a more competitive level, then joining a league or attending tournaments could be a great way to hone your skills.
Overall, when it comes to finding good pool air hockey ping pong tables, doing research and investing in quality brands can go a long way. Consider factors such as size, build quality, and features when choosing a table for your home. 
If you decide to purchase used models, make sure to inspect them thoroughly before making your purchase. With proper care and maintenance, a good air hockey table should last between 10-15 years. 
And if you're looking for more of a competitive experience, there are professional air hockey leagues that offer tournaments around the world!  So what are you waiting for? Get ready to hit the tables!
Wrapping It Up
These 10 best-rated air hockey tables are sure to provide hours of entertainment for all ages. Whether you're looking for a simple tabletop model or a professional-grade full-size air hockey table, there is something here that is perfect for any level of play. Don't forget to check out the wide range of accessories and spare parts that go with each table too, just in case you happen to run into any problems while playing. With so many air hockey table options, you are sure to get one according to your choice!